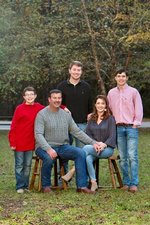 Mrs. Courtney McBride, Principal

Phone: 251-296-3991
Dear Flomaton Elementary Family,

My name is Courtney McBride and I am so excited to introduce myself as the principal of Flomaton Elementary School. I am honored to have been selected to join the Flomaton Elementary family, which is known far and wide for its dedication to excellence and love for children. My greatest accomplishment comes not professionally, but personally, as I have been married for 23 years to my high school sweetheart, Noah, and I am the mother of three beautiful treasures: Chandler (20) Branton (16) and Brodie (11).
Twenty-three years ago, I started my career at Flomaton Elementary as a kindergarten teacher. I have worked as an early childhood teacher, reading coach, interventionist and administrator, but I consider my most important job to be that of a child advocate. I LOVE KIDS!!
To the parents and guardians at FES; I plan to spend a lot of time with your precious children, getting to know their personalities, learning styles, and interests. I will celebrate their academic successes, their behavioral wins, and their acts of kindness, both small and BIG. I will encourage them every day and let them know they are VALUED and have a special place in our school community. They are already LOVED!
To the teachers and staff at FES; My number one focus to provide you with immense support so we are able to continue the standard of excellence that you all have established at FES. You are difference makers and super heroes! I will learn from you, grow with you, and value you and your craft. I will lead how I would want to be led. Together, we will continue the superb, relentless work that you all have begun.
To the supportive community; As your Principal, it is important to me that everyone who steps through our doors-students, teachers, parents AND community members-are excited to be here! You are a vital part of the success at Flomaton Elementary School. I am confident that together, we will continue our efficacious partnership between school and community.
I look forward to getting to know you and your children. Together, we will make a profound difference and build upon the great things that are happening at Flomaton Elementary School! We will smile a lot, love a lot, and have fun!

Sincerely,
Courtney McBride